FR/AR Protective Apparel for Gas and Electric Utilities
FR/AR Protective Apparel for Gas and Electric Utilities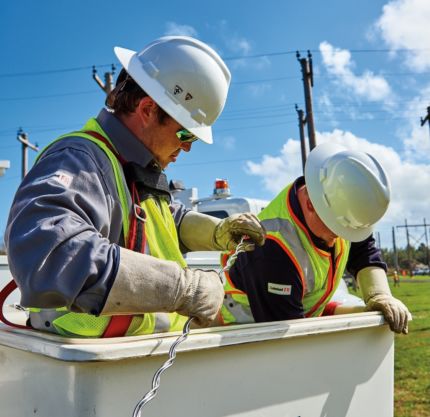 Lakeland® High Performance FR/AR apparel takes moisture-wicking to the next level, because how quickly you feel dry and comfortable matters all year long.
From selecting the right base layer with permanent moisture-wicking fibers, to adding the right layering protection when the temperature and elements demand it, Lakeland's line of performance FR/AR apparel will keep you visible and protected on the job. Learn more about our advanced FR/AR performance apparel below, and don't miss out on our free layering system arc rating calculator download.

Understanding Arc Flash Protection When Layering Garments

View an arc rating calculation of various layered garments
Understand your level of protection
Share this PDF with your team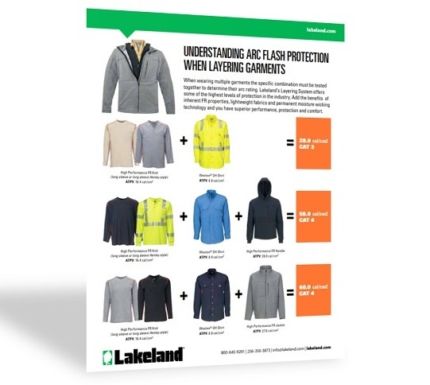 What is FR/AR Protective Clothing?
In 2012, 70E changed the terminology referencing personal protective equipment (PPE). What was formerly referred to as FR (flame resistant) clothing is now to be called Arc Rated or AR, according to the standard change. The difference between the two, and the reason for the change, lies in the fact that ALL clothing with an arc rating (AR) is flame resistant (FR), but not all FR clothing has an arc rating. FR doesn't have any standards applying to any particular hazard. FR traditionally was believed to be generically protective from flame at some level, but this is actually untrue of some fabrics. AR indicates a garment has an arc rating and the level of protection has been determined through testing.
What does dual certified mean?
Dual Certified means that the materials have been tested and certified to meet both the NFPA 70E (Arc Flash Protection) and the NFPA 2112 (Flash Fire Protection) standards.
NFPA 70E
NFPA 70E was developed to protect electrical workers in all industries who work on or near energized equipment capable of generating an arc flash. This includes high-voltage switching and grounding gear, panel boards, switchboards, motor control centers, motor starters, metal-clad switchgear, transformers and meters.
NFPA 2112
Addressing both fabric and the finished garment, this standard states that FR clothing must be tested and certified by a third party. NFPA 2112 focuses on protecting industrial personnel against short-duration thermal exposure from industrial flash fire hazards, providing minimum requirements for the design, construction, evaluation and certification of FR garments.
How Does FR/AR Apparel Protect Linemen and Gas and Electric Utility Workers?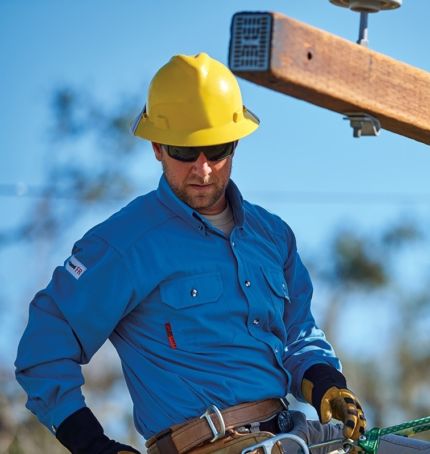 Lineman, gas, and electric utility working professionals have to be prepared to face all different types of weather and working conditions. FR Layering Systems give workers the flexibility to add and remove layers as needed while remaining protected.

Every layer you wear on the job matters. Lakeland's FR/AR knits offer some of the highest levels of protection no matter your environment. They are performance-driven, lightweight, comfortable, and inherently moisture-wicking, giving linemen and utility workers the mobility and comfort they need while staying protected.
What is Performance moisture-wicking FR/AR Apparel?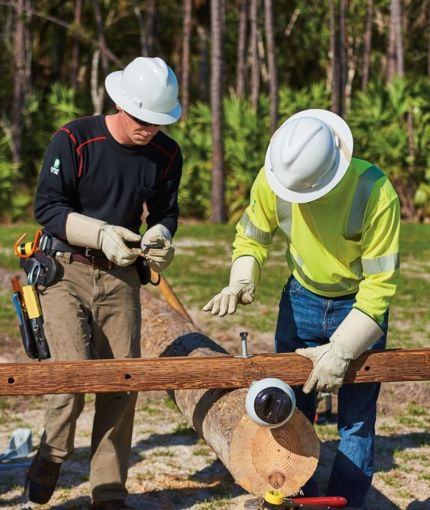 Originally developed for athletes, moisture-wicking fabrics worked to enhance an athlete's performance by keeping their core temperature consistent in both hot and cold environments. However, not all moisture-wicking fabrics are the same. Fabrics with an application of a chemical finish generally wear away over time, losing the moisture-wicking benefits.
For optimal performance and all-day comfort, look for permanent moisture-wicking fabrics. Instead of using 100% of a type of fiber and then treating that fiber with a moisture-wicking finish, permanent moisture-wicking fabrics blend two types of fibers together -- hydrophobic and hydrophilic fibers. This helps to absorb moisture and sweat while simultaneously pulling it away from the body. Lakeland® uses a 60/40 blend for the optimal balance of fibers.
All of the High Performance FR Fabrics from Lakeland® incorporate these key features to pull moisture away from your body and help it dry quickly so you can stay comfortable regardless of the temperature or season.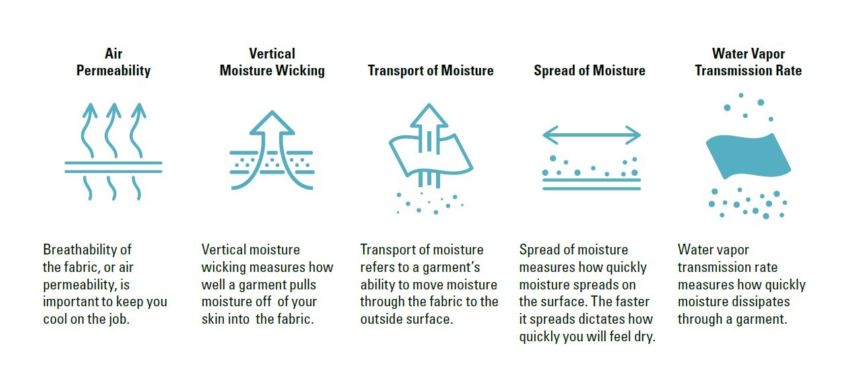 Why is Layering Apparel Essential for Lineman?
How Does FR/AR Apparel Layering Work?
A layering system is about more than warmth. It's about protection, breathability, and mobility during both warm and cold weather. A layering system is designed specifically to work together, layer by layer. Starting with a base layer that consists of permanent moisture-wicking fibers, each additional outer layer should have the same characteristics.
Not just any combination of fabrics and layers will work. Permanent moisture-wicking technology helps to pull moisture away from your body while creating air pockets for added warmth. Bringing balance to your core, a solid layering system helps you focus on your job and not on cold, damp clothing or stuffy layers that don't breathe.
The effectiveness of your layering system is eliminated in the absence of moisture-wicking fabrics, leaving you feeling damp, cold and not focused on the task in front of you.
Layering FR Apparel in Hot Weather
What is Heat Stress?

Heat stress, also called heat illness, is a body that is under stress from overheating. Heat stress occurs when the body's cooling mechanisms don't function properly, and this can lead to dangerous symptoms. The most serious heat illness is heatstroke. However, you can also experience heat cramps, heat rash, and heat exhaustion. Exposure to high temperatures, direct sun exposure, heavy physical labor, low hydration, and unbreathable clothing fabrics can increase your risk for heat stress.
You can learn more about how moisture-wicking protects against heat stress on our blog.
How to Layer FR/AR Apparel Effectively
The best way to avoid heat illness is to find FR/AR clothing constructed with performance moisture-wicking properties that work to pull sweat away from your body. For the most effective layers:
Review the labels. "Category 1" or "lightweight" labeled clothing doesn't always mean moisture-wicking.
Look for permanent moisture-wicking fibers. Always check the tag and look for a blend two types of fibers together, typically a 60/40 blend of hydrophobic and hydrophilic fibers. Avoid the use of 100% cotton or other materials for moisture-wicking.
Function and comfort. Find clothing that is comfortable and helps you focus on the task at hand to help prevent accidents or hazards that can lead to heat stress. Look for seamless underarm gussets and flat seam construction.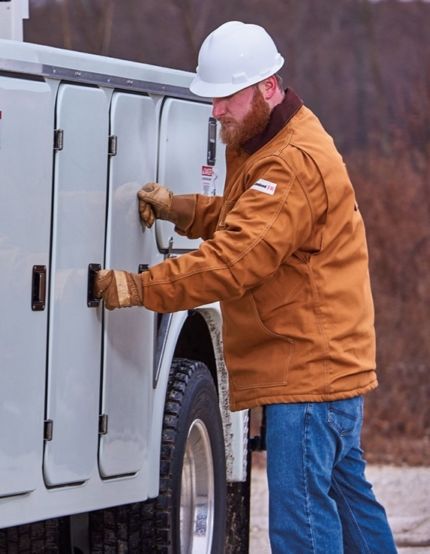 Layering FR Apparel in Cold Weather
The Dangers of Cold Weather for Linemen
Cold temperatures and fluctuating weather make for harsh conditions that can lead to cold stress with symptoms of dehydration, hypothermia, and even frostbite. If affected by extreme cold, you may start to feel increased thirst, fatigue, loss of coordination, reddened skin that has developed gray patches and numbness.

How to Layer Effectively in Cold Weather
Navigate cold weather with layering systems that use moisture-wicking technology but also offer wind and water resistance to give you protection from snow and ice. For the best protection and to reduce the risk of cold stress symptoms look for: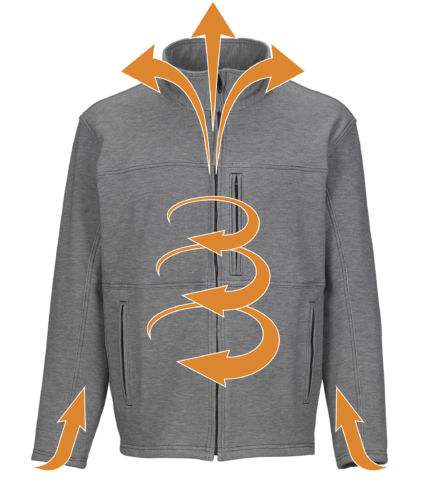 FR layers. moisture-wicking technology in every layer will keep you cool and dry by moving moisture through the fabric to the outermost layer. From base layer, button-up shirt, hoodie, and outer jacket you won't have to worry about trapped sweat or damp clothing.
Air circulation and warmth. Find clothing with breathable fabrics that allow for air circulation from your base layer to your outer layer. Air pockets between layers create warmth and insulation from the cold.
Layering systems are not created equal. From base layer to outer layer, make sure your FR/AR layering system offers permanent moisture-wicking technology and the protection you need on the job.
Lakeland's FR Performance Line of Protective Apparel
Lakeland is proud to offer a line of FR/AR apparel designed specifically to offer permanent moisture-wicking technology and protection for linemen and utility workers.