ChemMax® 4 Plus Chemical Protective Garments Has Superior, Advanced Chemical Protection. Supported by PermaSURE® Data Technology
Powerful Garment Protection From the Most Serious Chemicals
The next generation of ChemMax® 4 fabrics provides a new gateway to extensive chemical data like you've never had before. ChemMax 4 Plus is superior, advanced chemical protection, and is at the top-of-the-line for chemical protective clothing.
Six-Layers Working Together for State-Of-The-Art Protection
Constructed with a 6-layer protective system with spun bonded polypropylene and a proprietary barrier film, ChemMax 4 Plus will stand up to the toughest and most hazardous chemical environments.
Advantages of PermaSURE® - The Gateway to Extensive Chemical Data and Safe-Use Times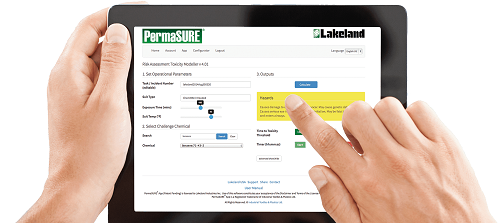 PermaSURE® Chemical Data Application Provides:
Free, mobile-friendly online tool
Models permeation rates and provides safe-use times by incorporating environmental, temperature and chemical exposure factors.
State-of-the-art technology developed initially by leading Polymer chemists for defense forces to quickly determine which suits are needed for various chemical warfare agents and dual-use chemicals.
Based on the known molecular characteristics and behavior of 4000+ chemicals interacting with ChemMax® 4 Plus. Read more about PermaSURE®
ChemMax 4 Plus Garment Configurations
ChemMax 4 Plus products offer heat sealed seams with a range of configurations including coveralls with respirator-fit hoods and encapsulated suits, all compatible with the PermaSURE® Toxicity Risk Modeler.


Push-Lock® Glove System
Lakeland exclusive Push-Lock® Glove system ensures a safe, accurate and secure connection between your glove and ChemMax 4 Plus garments. The re-usable Push-Lock system is versatile and can be worn with any chemical suit that demands a secure connection.

Watch the video on the simple Push-Lock (formally known as "Push-Fit") connection process now:
ChemMax® 4 Plus Brand Features
Extremely high chemical hold-out
All ASTM F1001 chemical >480 minutes
Softest, most flexible multi-film fabric on the market
View All ChemMax® 4 Plus Products
Resources
ChemMax® 4 Plus Specifications
Seam Types:

Heat sealed

Materials:

Spun bonded polypropylene & Proprietary barrier film

Colors:

Tan, Yellow

Garment Configurations:

Coveralls, Jacket, Pants, Encapsulated Suits

Fabric Testing:

Numerous Chemicals including the ASTM F1001 recommended list
Applications
Paint and Hazardous Liquids – Spray
High Exposure | High Risk
Hazmat, Non-Certified
Chemical Handling
Petrochemical