CE Certified Product Sheets, Selection Guides and Fact Sheets
Translations
For catalogues, product sheets and fact sheets in other languages use the links below. Not all documents are available in all languages. Where English only is available this is indicated. Please contact sales@lakeland.com if you need a document in a specific language.
Buyer & Selection Guides
Download our main Buyers' Guide and Selection Guides
Type 5 & 6 Protective Clothing
Download Product Sheets for Clothing for protection against Hazardous Dry Particles and Liquid Aerosol Sprays
Type 3 & 4 Protective Clothing
Download Product Sheets for Clothing for Protection against Shower (Type 4) and Jet (Type 3) Sprays of Hazardous Liquids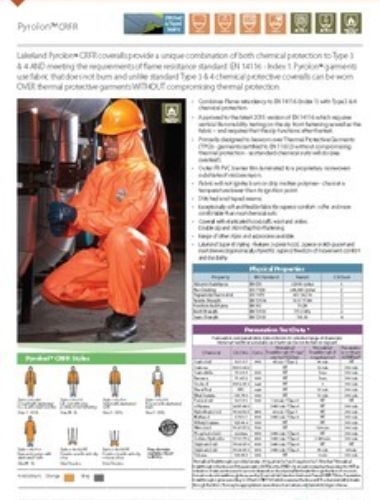 Pyrolon® CRFR
Cool Suits
Download Product Sheets on Lakeland Cool Suits: Chemical Protection with Breathability from the Cool Suit Design
Secondary FR Workwear
Download Product Sheets on Protective Clothing Combining Chemical Protection with FR Properties
Type 1 Protective Clothing
Download Product Sheets on Type 1 Clothing for protection against hazardous vapours and gases
Permeation Data & Permasure®
Download Permeation Test Data or Information & Guidance on Permasure® - Lakeland's app for easy assessment of real-world chemical suit Safe-Wear Times.
WARNING! permeation test data is not an indication of how long a chemical suit can be safely used but is intended for comparison of garment performance. Use Permasure® to quickly calculate Safe-Wear Times. Find out more here.
Arc Flash and Flame and Heat Protective Clothing
Download product sheets on clothing for protection against the heat hazards of arc flash and against flame and heat hazards
Critical Environments
Download Product Sheets on Clothing for Cleanroom and Controlled Environments.
General Information & Factsheets
Download specific application fact-sheets, Whitepapers and Guides.
The first listed: "Summary of Fact Sheets & Guides" gives a list of those available with direct links to each.